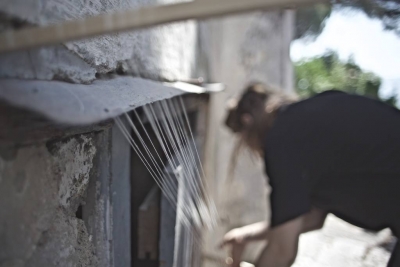 Elise Péroi, designer et plasticienne textile a fait ses études en Belgique. Elle est sortie lauréate de son Académie.
Around an axis, everything is linked, criss-crossed, and stretches.
My work arises and gathers momentum from this motto.
Originating in an ancient technique in which the act of making is as valuable as the end product, weaving is a way to express myself and to incorporate myself in today's world. For me, it is an infinite work of "fabric writing".
Nature provides me with both the ideas and the materials for my creations.
My work feeds on many thoughts and readings that all lead to reflections on the richness of nature: Every element in nature is structured and connected so as to create perfect shapes and harmony.
My creations often lead me to other disciplines that are connected to weaving – drawing, painting, collaging, and welding – in order to build media tailored to my textile works.
Weaving enables the expression of the whole body. A sort of dance emerges from all the successive, interlaced movements that make up the act of weaving.
The entire body is thus able to express something, and this feeling is, for me, a logical step towards Qigong, a discipline in which movements spread the energies that are like the threads of our lives.
A wide territory, where all is linked, expands from the centre of my expression; my wish is to explore and share.
____________________________________________________________________
A partir d'un axe, tout se lie, s'entrecroise, se déploie.
C'est dans cette formule que son travail prend sa source et son élan.
Partant d'une technique ancestrale ou l'acte de faire a autant de valeur que le produit fini, tisser est pour elle un moyen de s'exprimer et de s'inclure dans le monde actuel. Il s'agit pour elle d'un travail d'écriture textile qui s'étend à l'infini.
Elle puise dans la nature les idées comme les matériaux de ses travaux.
Son travail se nourrit de diverses pensées et lectures qui invitent à réfléchir sur la richesse de la nature dans laquelle tout s'articule et se répond pour former une géométrie et une harmonie parfaites.
Ses créations l'entraînent vers différentes pratiques reliées à ses tissages, tels le dessin, la peinture, les collages et la soudure afin de construire exactement les supports adaptés à ses créations textiles.
Le tissage renvoie à l'expression du corps tout entier. Par tous ces gestes qui se suivent et se croisent, une sorte de danse s'offre à nous.
C'est tout le corps qui s'exprime et cette sensation fut pour elle un appel logique vers le Qi gong où les gestes déploient les énergies qui sont les fils de nos vies.
A partir du centre de son expression s'étend un vaste territoire où tout est relié qu'elle souhaite explorer et partager.